Corporate Events with Newport Beach Sailing Charters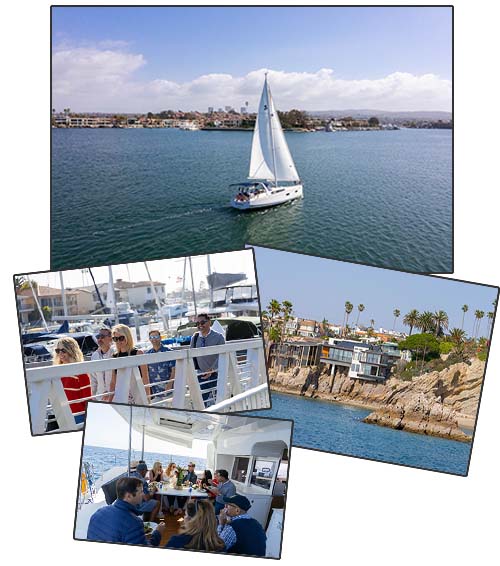 A corporate event is a captained charter designed to entertain, reward, or build camaraderie amongst your guests. When you need the perfect venue to thank clients or employees, or encourage team building and morale, sailing in stunning Newport Harbor will be an experience not soon forgotten. From harbor cruises to corporate regattas, a sailing charter provides a truly unique and memorable event.
Entertainment
Newport Beach Sailing Charters will work with you to plan an event suited to your specific business needs. For entertainment, harbor cruises complimented by mouth-watering menus and wines are always a top choice. You are welcome to bring your own provisions with no corkage or additional fees.
For those guests who may not be seaworthy, there is always the option of remaining inside the harbor. The views are equally beautiful, as multi-million dollar homes dot the waterfront and seals sunbathe on the moorings! Half day and full day charters are available for four hours and eight hours respectively.
Team Building
If your team needs motivation and inspiration, and your meetings need to be unforgettable, then you should break out of the office and onto the ocean. No prior sailing experience is necessary. Whether your guests are novice or seasoned sailors, we cater to different abilities.
Nothing inspires bonding and team work like sailing; everyone working together toward a common goal while under pressure. Racing in a regatta forces everyone to think on their feet, communicate strongly, coordinate every action, and make the most of the strengths and weaknesses of the team. Watch hidden talents emerge as personality traits shine. Who is a natural leader, who is a good communicator, who is supportive without being told first? A sailing adventure in the fresh open air is just what you need to get your team bonding and get the feeling that you can achieve anything together.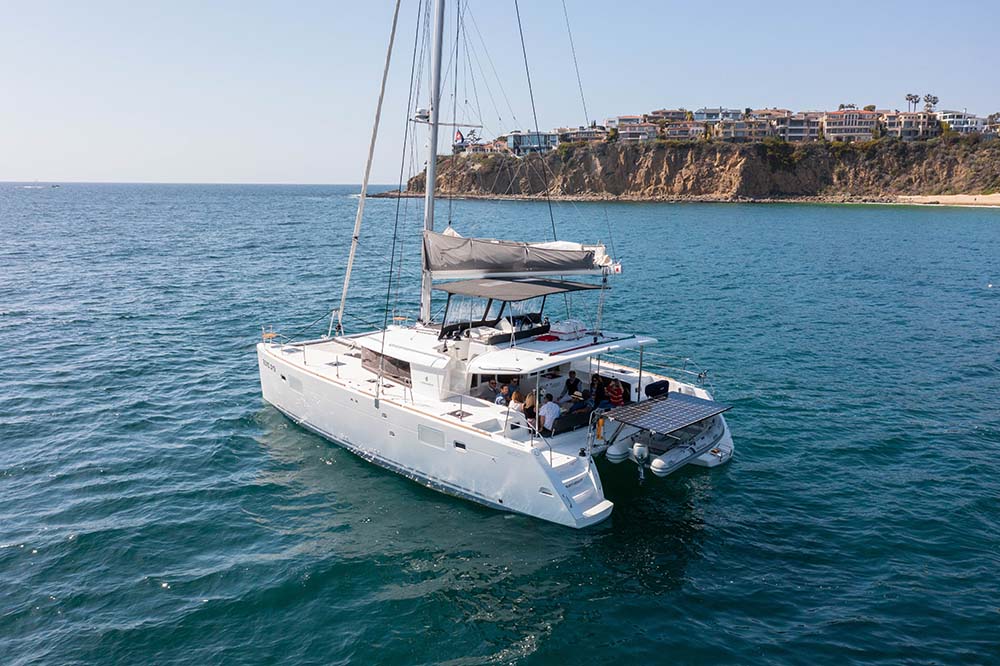 Cruising Catamaran Corporate Event
Book your corporate event on a cruising Catamaran. For this regatta, we can accommodate between 11 and 22 people on one to two catamarans. Each guest will have the chance to help sail the boat if they so desire, or they can choose to just relax and take in the stunning surroundings. You have the option to include a server who would serve delectable bites, premium beer and white wine selections. Your time aboard a Newport Beach Sailing Charter certainly will be wonderful and memorable.
Call for pricing.
Multiple Monohull Corporate Event
Our regattas are first class sailing races between a minimum of two and a maximum of ten sailboats. These regattas accommodate between 4 and 72 people and each team is led by a skilled and friendly US Coast Guard captain. Your staff can even take the helm and pilot the ship. Team shirts and trophies are also an option, to ensure that your guests glean the most out of their experience. Itineraries can be modified to a 6 hour block.
Call for pricing.
The following is a sample agenda for explanation purposes. Your half day sail can be structured in a way that suites your needs.
12:00pm – Listen to boat and safety orientation while enjoying the lunch of your choice (not included in the charter cost).
12:30pm – Participate in sailing instruction and practice different positions on the sailboat.
2:00pm – Start a fun and exciting race inside or outside the harbor.
3:30pm – Finish the race.
3:30pm – Discuss how participants worked as a team and what lessons can be taken back to the workplace, all while enjoying a harbor cruise.
4:00pm – Departure
Other 4 hour blocks could include:
10:00 am to 2:00 pm
9:00 am to 1:00 pm
11:00 am to 3:00 pm
1:00 pm to 5:00 pm
Corporate Events Cancellation Policy: Corporate Events may be cancelled up to 30 days in advance for a 100% credit which is applied toward a future charter, as long as you reschedule the charter within one year. Cancellations made less than 30 days but greater than 7 days will result in a loss of 15% of the total charter fee and an 85% credit valid toward a future charter, as long as you reschedule the charter within a year. Cancellations made in less than 7 days – but greater than 2 days – will result in a loss of 30% of the total charter fee and an 70% credit valid toward a future charter, as long as you reschedule the charter within a year. Cancellations less than 48 hours in advance of the charter will result in a loss of 75% of the total charter fee and a 25% refund.
A beautiful newer sailing yacht, a friendly knowledgeable captain, all necessary safety gear and cleaning up after the charter as well as fuel, mooring and anchoring fees.
Food and beverage: Everyone has a different preference, bring what you like best.
Gratuity: Gratuity is not included in the price of the charter. It is typical in our industry to tip the captain 15% of the cost of the charter.