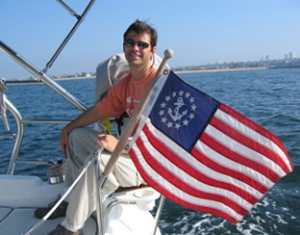 Chris Jester
Managing Director of the Newport Beach Sailing Charters
Chris is the Managing Director for the Newport Beach Sailing Charters. He is also the Managing Director for the Newport Beach Sailing School. He is also the Base Manager for SailTime Orange County and a sailboat dealer for Cruising Yacht Sales. Chris has an MBA from UC Irvine and a Bachelor's degree in Business Administration from the University of San Diego. He grew up in Orange County and learned to sail as a teenager. He is married, with two children, and enjoys sailing with his family.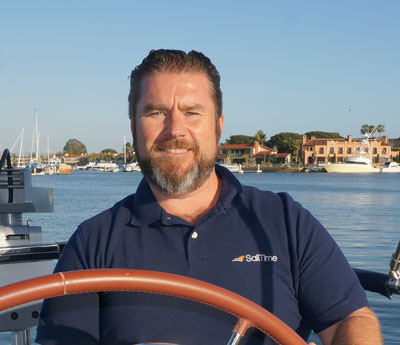 Tom Collins
Base Manager
Tom is the Manager for the Newport Beach Sailing Charters. He is also the Manager for the Newport Beach Sailing School, Base Manager for SailTime Orange County and a sailboat sales agent for Cruising Yacht Sales. Tom has a Bachelor's degree in Business Administration from Carroll College in Helena, MT. He grew up in Orange County and learned to sail as a young child. Tom has been actively sailing throughout his entire life. He is married and enjoys sailing with his family.
Roger Philips
US Coast Guard Captain and ASA Sailing Instructor
Captain Roger Philips earned the esteemed recognition of "Outstanding Instructor for 2008 & 2009" by the American Sailing Association.
Captain Roger Philips is a US Coast Guard Captain and ASA Sailing Instructor. He is also a former Vessel Assist rescue boat captain. For over thirty years, Captain Roger has been dedicated to the pursuit of sailing, while owning several sailboats. Roger has done extensive sailing in the Pacific Northwest, West Coast, and the East Coast, as well as in the Caribbean and Bermuda. He also teaches part time at Concordia University in Irvine, CA. He and his wife, Antoinette, enjoy sailing locally in Southern California and hosting flotillas in the San Juan Islands.
"We had a wonderful time and enjoyed our time with Capt. Rogers. He was very nice and was very knowledgeable. He provided us information that helped set our expectations and even went out of his way to record our proposal on my behalf. All around I'd give him two thumbs up."
-Lance K. charter with Capt. Roger
"We had an amazing time on the sailboat! Captain Roger was an absolute pleasure to sail with. He gave us many tips on sailing and provided us with a perfect tour. Thanks for everything!"
-Anthony M. charter with Captain Roger
"We had the BEST time on the sailboat trip. The winds were CRAZY, the sunset was the best, and we had Roger laughing and carrying on with us most of the trip. We could not have asked for a better trip, the winds were fast and the boat was heeling way over. It was the BEST!!!! We have not stopped laughing and talking about it since we left. What a thrill."
-Marge H. charter with Captain Roger
"We had a fantastic time onboard the sailboat on Saturday. Great weather, good food and nice music. Captain Roger was great and we looking forward to repeating the trip soon. He knew when to get involved and when to lay back and give us some space. Fantastic personality, very knowledgeable about sailing and pleasant for conversation. We will recommend both the Sailing Charter and Captain Roger to our friends."
-Alvaro G. charter with Roger
Mike Kohl
US Coast Guard Captain and ASA Sailing Instructor
Captain Mike Kohl earned the esteemed recognition of "Outstanding Instructor for 2010, 2012 and 2013 by the American Sailing Association. Mike has logged thousands of hours on the water, cruising extensively throughout Southern California, the Panama Canal, and the Caribbean. He is also a former Sea Tow rescue boat captain as well as an experienced charter captain. Mike's passion for and enjoyment of sailing is evident, as attested to by the hundreds of happy students he has taught.
"We had an awesome time! Captain Mike did a great job! We will call you again next time"
-Rob S. charter with Captain Mike
"We had a great time. Mike was informative, competent, and fun. Couldn't have done a better job!"
-Bruce M. charter with Captain Mike
"Mike did an excellent job. Highly recommend him."
-Nick V. charter with Captain Mike
"We had a wonderful day at sea with Captain Mike. Pam learned she gets sea sick (just nausea), but Mike caught on right away and had her staring at the horizon. All subsided in the calm waters of the bay. While sailing, I learned I have a lot to learn about sailing if I'm ever to become a sailor. Mike gave me tons of information and classes to take. Quite overwhelming, but nonetheless, it was a fantastic day. Thanks so much for your help in setting it all up."
-J.D. C. charter with Mike
"We had a fantastic sunset sail. Captain Mike was great and managed us well, even the little ones. We would highly recommend your charter. We of course appreciated very much the upgrade to the 54 foot. It was a beautiful boat. The only regret was that we did not book the entire day!"
-Dan K. charter with Mike
"Capt. Mike was wonderful, we all had a great time! We will use you again!"
-John W. charter with Mike
"We had a fantastic time, Mike was very informative in the area, good fun and interacted extremely well without overpowering. We should have taken your tip and only taken 1 travel sickness pill, everyone fell asleep for 30 mins on the deck , but even that was wonderfully relaxing ..Great time, Mike was fantastic and everyone enjoyed the experience."
-Robert S. charter with Mike
"We had a great time, and Mike was also great. He shared a lot of interesting stories and information with us, and it was a pleasure to have him as our captain."
-Dan B. charter with Mike
"Captain Mike was terric, helpful, and informative on what we could do."
-Mark N. adventure charter with Mike
"We liked him! we loved the charter and will probably do it again next year. We had four kids on the boat and he was great with them and with us. We did not find any dolphins but he looked hard and said that he heard they were too far off shore. all good! hope he survived us ok"
-Robin D. charter with Mike
"We had a great time. Mike was the best!!"
-John C. charter with Mike
"It was an excellent trip and Mike was very helpful and friendly. I would recommend the trip and Mike to friends." -Waiel Wahia A. charter with Mike
"Hi Madi, Chris, and Captain Mike, as I expressed on the phone, our family could not have had a better experience than that which we had in August 2014 on your 3 day sailing excursion to Catalina. Everything was so enjoyable and our 17 year old son and 15 year old daughter were kept entertained and excited the whole trip. The perfect trip was capped off memorably with Captain Mike taking the time to view the beautiful Blue Whale surfacing along with dozens upon dozens of dolphins and sea lions on the way back to shore. Everything was truly awesome. Thank you all so much!"
-Jay G. adventure charter with Mike
"The reason we had a wonderful time and a memorable experience is because of Captain Mike! His experience and love of the water was apparent which put my mother at ease. When he saw some dolphins through his binoculars he took us in that direction and as he put it "let's go find the party" we ran into a megapode of dolphins. The experience was unforgettable. I wanted to treat my parents to something that is dear to me (being in the water) and Captain Mike couldn't have made it more perfect. Give him my best please! And if he ever comes to Omaha he should look me up." -Lori Rich M. charter with Mike
David Carlson
US Coast Guard Captain and ASA Sailing Instructor
Captain David Carlson is a US Coast Guard Captain and ASA Sailing Instructor, He has taught sailing for the past 15 years. Captain David Carlson earned the esteemed recognition of "Outstanding Instructor for 2013" by the American Sailing Association. David has an extensive racing and cruising background. He has raced in multiple world championships and offshore races. He has also taught cruising through out the Northeast and the Caribbean. David has appeared on the Travel Channel and Northeast P rogramming to teach sailing. He continues to find immense joy in showing the ropes to new sailors. David relocated from Boston to Newport Beach in 2010 and we are thrilled to have him on our sailing team.
"We had a great time. The boat was nice, clean, and comfortable. Captain David was very personable, knowledgeable, and easy to hang with for 4 hours. My wife and I had a great time. Next time we are in Newport and want to go sailing we will definitely call you again."
-Scott E, Captained charter with David
"Captain David was great! The special attention he gave my son teaching him about the sail boat made his first sail very memorable. Everyone had a wonderful time. Thank you again."
-Peter C. charter with Captain David
"We had a wonderful time sailing with Captain David. He was so nice and kind to the kids. David not only delivered a great day of sailing but made sure the kids learned some lessons from the moment we stepped on the boat. Stella was so excited to sail and is looking forward to our next experience, Olivia who was a bit apprehensive about the whole thing is ready to go sailing again. And for me I enjoyed the day seeing my kids learning about a new adventure while reminiscing about when I was sailing at their age. We are sending your info to our friends who are interested in a sailing lesson. Overall an A+ from the Hollands, Thanks!"
-Mark H. H20 Refresher with kids with David
"We had a great time. I highly recommend captain Dave! He was fabulous…so friendly. It was one of the best things we did while on vacation!"
-Kelli G. charter with David
Josh Ross
US Coast Guard Captain and ASA Sailing Instructor
As a professional mariner, Joshua Ross has voyaged to many regions of the globe—-Bering Sea, Arctic Circle, Panama Canal, and across the Atlantic and Pacific Oceans. Mr. Ross is a U.S. Coast Guard veteran, licensed captain, racing coach, and certified sailing instructor. He received awards for his efforts both from the Coast Guard (Commandant's Commendation), and from the U.S. Sailing Association (Outstanding Director of year-round program). Sponsored by Challenged America, Joshua skippered the first sailing crew, all with significant disabilities, to compete in the Transpacific Yacht Race from southern California to Hawaii—a 2,500 mile non-stop, adventure, featured on ESPN. For more than twenty years, he has contributed to the sport of sailing utilizing a personal, one-on-one, teaching style that focuses on an individual's full potential.
"Captain Josh was very good and a pleasure, he knew the area and was very informative. We would not hesitate to use his expertise in the future. The one improvement would be to have the boat stocked with water and snacks, just a suggestion, other than that all was good we enjoyed the day and would come again."
-Tom R. charter with Josh
"We did very much enjoy the sailing trip. Captain Josh is competent, knowledgeable, and entertaining; we all had an excellent time. My favorite part was seeing the beaches from an ocean perspective – it seems an entirely different world, and definitely a new viewpoint."
-Roxi & John K. charter with Josh
"Think we called him jack?? Oh well he was fantastic and we totally enjoyed the whole day!! We will be back for sure. And next time we will call him josh!! Thanks again we have told many friends about the great time so if you get a run on in reservations from granite bay that's from us!!
-Cary J. charter with Josh
"Happy to report that our afternoon with Josh on the Bruce Goose was absolutely perfect. On a scale of 1 to 10 it was a 10 plus. Josh made us feel completely comfortable with his own skill as well as when we were at the helm. I can't think of anything that could have been improved on and we are already planning on returning next summer!"
-Jan M. charter with Josh
"Josh was amazing! Couldn't have asked for a better time, thanks again for everything!"
-Lisa D. charter with Josh
"We had a great time and Josh was great!! We really enjoyed his company and his "captainship". Thanks"
-Fiorenza C.n charter with Josh
"The experience was perfect and Josh was great. I have nothing but praises and everything went smoothly without any issues. I would highly recommend to anyone that is inquiring a private sail ride. I can post a comment if you have a yelp or face book page. Thank you very much to your team and Josh, cheers!"
-Elbert P. charter with Josh
Bob Strang
US Coast Guard Captain and ASA Sailing Instructor
Born and raised in Southern California, Captain BOB has been involved in sailing and boating for the past forty years, since he was a teenager. His local sailing has been extensive in Newport Beach, Long Beach, the southern California Channel Islands and Lake Arrowhead. His international cruising and racing include the Transpacific, Mexico, the Caribbean, Panama, the Pacific Northwest, Greece and most recently, Croatia.
Captain BOB is a College Graduate, USAF pilot training graduate, retired commercial & corporate pilot. He is at home on the water in any type of vessel or weather! He enjoys sharing his passion for sailing with enthusiastic novices and seasoned boaters.
"Excellent trip. Couldn't have been better. Captain Bob was outstanding."
-John R. charter with Bob
"Captain Bob was a knowledgeable friendly guide. We had a great sail!"
-Richard S. charter with Bob
"We had a great time. Both Josh and Bob are very nice. We will certainly come back for more, when we have guests over to visit."
-Feng C. charter with Josh and with Bob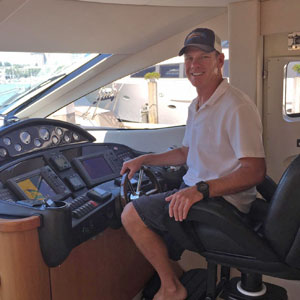 Darryl Ouellette
US Coast Guard Captain
Captain Darryl has been boating for decades. He has sailed the US and British Virgin Islands extensively, the Coasts of South Carolina, Georgia and Florida as well as the California Coast and Channel Islands. After many years in the Real Estate Brokerage business he decided he preferred being on a boat instead of in an office. Capt. Darryl holds a 100 Ton Near Coastal Masters License with the United States Coast Guard. Darryl moved to Balboa Island from Catalina Island and began working with Newport Sailing Charters in June, 2013.
"Darryl was awesome! It's been a highlight of our trip for sure and I'd refer your company anytime!" -Doug B
"Charter went very well. Nice boat and the captain was excellent. Your company exceeded my expectations. Hopefully we will have an opportunity to repeat in the future. " – Eric L
"Darrel was fantastic!!!! Would make sure I request him again next time. Very knowledgeable of sites, boat and a perfect balance of fun and professional. Thanks!" -Robyn V
"We had a fabulous time!! Captain Darryl was very professional and informative, would definitely request him in the future." -Richard M
"We had a great time with Capt Daryl and Allan. It was a relaxing evening on the boat and we enjoyed it thoroughly. Daryl and Allan were great, helpful, insightful, and relational. It was a great experience and we would love to do it again sometime with our family!" -Ethan H
"We all loved our sail on Friday and has so much fun! Captain Darryl was a wonderful guide and really helped to make it a memorable experience. Thank you!" -Claire W
"We had a great time. Darryl was great and he fit right in. We appreciate the service." -Thom A
"We had a blast and Darryl was great. Can't imagine you get much negative feedback on him. Easy-going, personable, knowledgeable, and was great with the kids." -Barry C
"The sailing charter was absolutely perfect. Our captain was great and worked really hard to make it a memorable experience for our kids and us! We were able to see the sea lions and get so close to Dolphins that we could almost touch them…the kids were amazed! " -Tracy D
"It was a perfect day. Darrell was a great host." -Roger A, with Capt. Darryl
"We had a blast on our charter, thank you! Darryl was wonderful and we all definitely had quite the experience learning to steer the boat. Our investor was even quite good at it, and in fact steered us all the way back to the docking area! I am sincerely glad that you set us up with Darryl, because he answered every question that we had for him and was extremely knowledgeable about all aspects of sailing. Thanks again! If we need another charter, we will definitely come back!" – Cristin P
"Everything was great. We look forward to doing it again. We may want to take the catamaran out next time. Tell Captain Darryl that we are turning into sailing people." -Scott S
"We had so much fun! It was a perfect day. Beautiful boat, great weather, good friends. And Captain Darryl was wonderful. He made everyone comfortable and took great care of us. He made sure we had a fun sailing experience. And he managed to find us some whales as well. The best birthday ever. And thank u to u and Chris also. U both were so helpful." -Tina L
"We all enjoyed our experience with Captain Darryl on the 46. Darryl and the mate in training were very polite and professional for the duration of our sail. The interaction between the Skipper and the trainee was good to see with the trainee asking good questions and getting good feedback from the Captain. Also, Captain Darryl was very knowledgeable of all of the various past and present owners of the homes within the harbor." -Barry P
" We had a fantastic time last week! Darryl was a great captain, very capable, a patient teacher, full of interesting local knowledge, and he took us on a great "round the rocks" route (Catalina and SB Island), giving us a chance to experience cruising as well as snorkeling and hiking at a variety of incredible anchorages. We have only positive things to say about him and your charter company. Sincerest thanks for an amazing trip!" -Amy E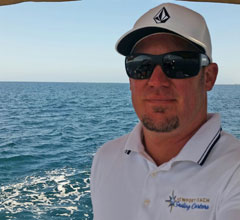 Rick La Pan
US Coast Guard Captain and ASA Sailing Instructor
Captain Rick is a Southern California Local, who has outstanding professional customer service. His goal is to make sure the time you spend sailing will be fun, entertaining, educational, relaxing and overall a great experience. Captain Rick is current with all U.S. Coast Guard regulations as a certified captain. Rick has experience sailing in various countries all over the world. Rick also has been an instructor with the American Sailing Association for several years teaching people of all ages how to sail. His passions include, being a father of two kids, sailing, ocean wildlife, big wave surfing, free diving, great white cage diving and bringing new people out on the water to enjoy the magnificent Southern California waters.
"Everything was wonderful!! And, Captain Rick was absolutely the very best! Thank you for everything.
-India R. charter with Rick Lapan
"Our Experience with captain Rick was incredible, and we had the best time ever…definitely want to come back and sail away on a mini vaction with your company. Thank you a very awesome experience!"
-Jael T. charter with Captain Rick
"Rick was really a great captain. I already recommended you guys to someone else."
-James J. Charter with Captain Rick
"We had a great day!! I will definitely recommend your company to anyone that is looking for an adventure while in Southern California. My family and I would highly recommend Captain Rick, he was very knowledgeable and attentive(not to mention a really nice guy! We will definitely be repeat customers!"
–Vince W. with Captain Rick
Great boat, great captain and the weather and wind could not have been better. See you for the next one.
-John T.
We had a great time, everything was punctual and as expected. Rick was phenomenal.
-Raffaele C.
Rick was amazing!  Very professional and really knowledgeable.  My dad had a great time –as did we all-we were all so happy with the boat-my parents were especially pleased!
-Stephanie M.
As part of a week long trip in Newport, we did a sunset cruise with Captain Rick!! We had a wonderful time as he took as out on a 38 foot sailboat. He shared with us his knowledge of the area and even allowed me to sail the boat!
Our family visits the Newport Coast Area every summer. We always try to do something new and this year we purchased a 3 hour sunset cruise with Newport Beach Sailing Charters. We could not have been happier with our decision. Captain Rick was awesome. He is very knowledgeable and friendly in addition to being a great captain. The boat was absolutely beautiful, clean, and well maintained. I would highly recommend this experience to anyone who is ready to graduate from the electric boats in the harbor.
Had a great time. We did the 3 hr sunset cruise. Captain Rick was fantastic and the boat was beautiful, we choose the Hunter 40. A perfect evening!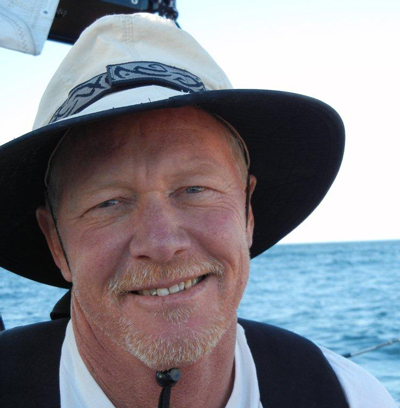 Marc Hughston
US Coast Guard Captain and ASA Sailing Instructor
Marc Hughston took his first sailing lesson at age 14 on the island of Moorea, and he has been sailing ever since. As a sailing and cruising instructor since 1998, Marc has honed his expertise in anchoring and handling heavy weather on countless sailing adventures in California's challenging Northern Channel Islands, the Sea of Cortez, and along the US West Coast. Marc holds a USCG 100 Ton Master's license and is a published cruising guidebook author. His greatest satisfaction comes from helping others build the capabilities they need to pursue their water-life adventures.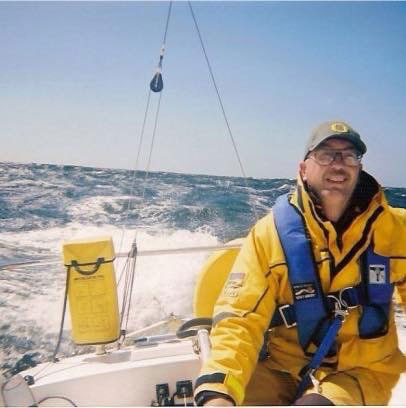 Daniel Simonsen
US Coast Guard Captain and ASA Sailing Instructor
Captain Dan Simonsen is a US Coast Guard Captain and an ASA Sailing Instructor who began his sailing career over 30 years ago in the San Francisco Bay Area.  It's often said that if you learned to sail in San Francisco, you can sail almost anywhere in the world and if you have the pleasure of hearing one of his many sailing adventure stories you'll discover the reason why.  Along with sailing, his true passion, Captain Dan was also a public school teacher for two decades. These two fundamentals bring a unique perspective and approach to the way he shares his love for sailing with his students and clients.  Captain Dan has the experience and knowledge to take you on an adventurous sail or a leisure cruise and the patience and background to share with you and teach you the true art of sailing.
Trip was great. Dan was excellent – very relaxed and easy-going, which is perfect. Penny seemed to love it. The boat was exactly what we wanted. -Evan C.
Everything was great. Thank you so much and Dan is a keeper  -Ernie B.
Everything was great. Captain Dan was very knowledgeable and courteous.  —Martín M
"Everything went great!! The scheduling was easy. The boat was perfect for our needs. Dan was exceptional!  Could not ask for a better captain! Knew right off that he and I were going to get along, when we both showed up with U of Oregon caps. I'm an alum of U of O and Dan's girls both went to Oregon.  He's also very knowledgeable of local history and we were able to see many whales on the cruise. We were very pleased with the entire experience and would recommend Sail Newport to any of our friends that might be thinking about charting a boat" -Rick P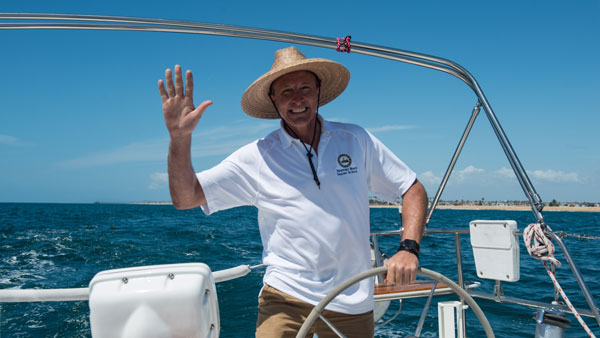 Allan Emas
US Coast Guard Captain and ASA Sailing Instructor
Hi my name Allan and I am a Southern California native. I truly believe in offering the highest customer experience possible. That includes making sure your experience while on the water is relaxing, educational and as involved as the client wishes. I am ASA certified in Keel Boat, Coastal Cruising, Bare Boating, Coastal Navigation and Catamaran Sailing. Some of my passions include competitive and cruising sailing, fishing and anything related to the water.
We had an absolutely wonderful time!! The weather cooperated, no rain, and we averaged around 7.5knots, so it was perfect.  We headed out down south a little past Crystal Cove, then back up past the Newport pier and then followed the wind out for the last hour or so. Captain Allan was great-so nice and knowledgeable. And what a beautiful boat-stunning!
My dad was over the moon, he got behind the wheel though I must admit the rest of us ended up just relaxing.  It definitely made all of us want to get out sailing more; being out on the water really is the best! So this was really fantastic.
We will definitely recommend you and keep you on file for future.  I'm already trying to figure out whose birthday is in the summer -Emilie K
I especially want to thank Allan for the most fantastic weekend.  I feel like wow i learned so much, got extremely good advice and the conversations we had and was enormously helpful…I look forward to taking a few more classes, and possibly working together for a membership to SailTime. -Jan C
The sailboat trip was for my 70th birthday. Captain Allan was very friendly, gracious, courteous and helpful. He certainly knew how to sail. We had a most relaxing, incredible and wonderful time on our trip. I loved it. Please give our thanks again to Captain Allan for providing us with such a terrific experience.   -Elizabeth V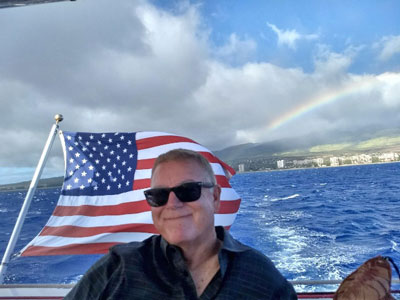 Scott McDonald
US Coast Guard Captain and ASA Sailing Instructor
Captain Scott McDonald is a US Coast Guard licensed Captain with sailing and towing endorsements, an ASA Certified Sailing Instructor having provided  thousands of hours sailing instruction, and an experienced delivery Captain. Scott has been involved in sailing since he was 16 years old when he purchased and sailed his first of many boats. Scott has sailed up and down the Pacific West Coast as well as throughout Mexican waters.  His passion is introducing people to the boating community and helping them build their boating skills.  He and his wife, Donna, enjoy sailing locally in Southern California and participating in local yacht club cruises and events.
"Thank you so much for teaching me how to sail!!  I really enjoyed our lessons and had a great time on the water.  I couldn't have asked for a better instructor.  Can't wait to keep sailing.  –Allison P.
"Just wanted to say thank you and express our appreciation for your efforts and patience as Cindy and I completed the sailing course.  We thoroughly enjoyed the classes and found your teaching style to be clear and thorough." –Wayne and Cindy W.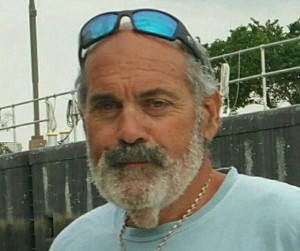 Bruce Pierce
US Coast Guard Captain and ASA Sailing Instructor
I grew up in Southern California and have been involved with boats since birth. My father owned a boat. As a young boy I worked on the local sport fishing boats from Long Beach to San Diego and Mexico.
I started sailing a Sabot at about 8years old and bought my first keel boat at 20. I joined a sailing club and was very active for about 17 years learning about the different styles and rigs. I bought a blue water cruising boat at 39 and did a complete refit to get her and me in shape for a cruise. I went from California through the Cannel up to Texas and around the east coast up to Chesapeake Bay.
I settled in Florida where I got did another Refit and did a trip on the east coast called "The Great Loop". Up the Intercostal Waterway (ICW), around the Great Lakes and to Chicago, then 9 rivers and come out in Mobil Alabama and finish the Loop crossing my wake back in Sarasota Florida where the trip started.
I am now enjoying teaching and Charting Sailing Boats and sailing a lot as a club member.